Located near the crossroads of Europe and Asia, Greece forms the southern extremity of the Balkan peninsula in south-east Europe. Its territory includes more than 2 000 islands in the Aegean and Ionian seas, of which only around 165 are inhabited. Mount Olympus is the highest point in the country.

Greece is one of the cradles of European civilisation, whose ancient scholars made great advances in philosophy, medicine, mathematics and astronomy. Their city-states were pioneers in developing democratic forms of government. The historical and cultural heritage of Greece continues to resonate throughout the modern world - in literature, art, philosophy and politics.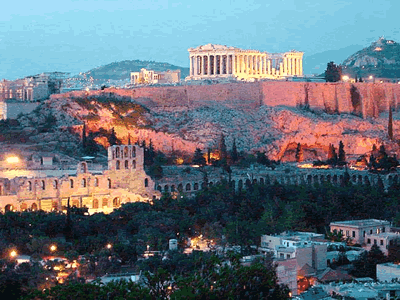 Modern Greece has a republican structure based on the constitution of 1975. The 300 members of the single-chamber parliament are elected for a period of four years. The country is divided into 13 administrative regions.
More than 50% of Greek industry is located in the Greater Athens area, the main economic sectors being agriculture, tourism, construction and shipping.
The best-known contemporary Greeks include the film-maker Kostas Gavras, the Nobel Prize winner Odysseus Elitis and composer Mikis Theodorakis.
Greek cuisine is based on goat meat and mutton. Fish dishes are also popular. Olive oil, which is produced in large quantities, adds to the distinctive taste of Greek food.